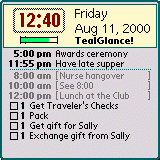 For the busy individual, TealGlance proves to be the perfect solution … instant-on access to your day at a glance.
TealGlance is a small Palm application that displays different aspects of your day in one view. Items that can be displayed include the date, a clock, the battery status, Datebook items, and ToDo items. You customize it to pop up when you want it, and for how long, and then it quickly returns to your last opened program.
Some of my favourite features include the following:
You can suspend TealGlance from running if the Palm was recently turned on.

When the TealGlance screen is activated, you can jump to the Datebook or ToDo applications by tapping in the respective part of the startup screen.

There's an option to display TealGlance if the Palm has been locked, which allows a quick glance at current items without unlocking the unit.

It has a low memory overhead.

It is available in colour -- as a newly converted Palm IIIc user, it is still difficult to find useful color Palm applications.
Some of its drawbacks might include the following:
The program requires a systems extension program (such as Hackmaster, X-Master, or TealPoint's own TealMaster) to work, which could create a problem for the Palm newbie who may be intimidated by having to install an additional application, particularly one requiring a so-called "hack" to work.

The program has quite a complex customizable interface. If you avoid manuals like I do, it takes a little fiddling around to get the "display" that you want.

The "day of the week" takes up too much room and it cannot be "optioned" out.
Bottom line? Since the positives far outweigh any of the negatives, if you are looking for a quick way to view your day at a glance with a minimum of fuss, TealGlance is the Palm application for you.