Sudoku AddictTM
Sudoku on your Handheld
Sudoku Addict, by TealPoint Software, brings to your handheld the addictive worldwide puzzle craze that has displaced crossword puzzles in many newspapers in Great Britain and Japan.
Also sometimes known by the name 'Number Place', Sudoku (or 'Su Doku') gets its name from the Japanese word for 'single number'. Play by entering single digit numbers so that each row, column, and 3x3 box on the board contains just one of each number.
Sudoku Addict comes complete with 3000 different puzzles, three challenging levels of difficulty, intuitive controls, a manual puzzle editor, a pencil annotation mode, and puzzle-solver capable of completing any valid Sudoku.

Program Price
$7.95
Program Version
1.50
Release Date
December 12, 2008

WINDOWS MOBILE: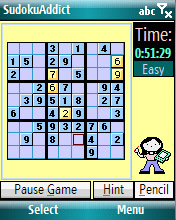 WINDOWS DESKTOP PC: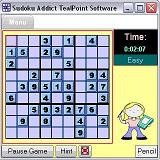 PALMOS: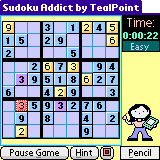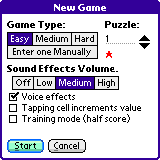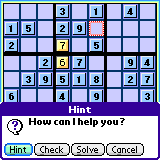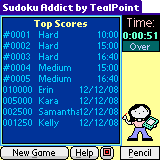 ---
Buy the Book
Sudoku Addict - The Book



Visit our storefront on Lulu Press to purchase the
Sudoku Addict - 300 Number Place Puzzles paperback book.
For only $9.95 you can have 300 sudoku puzzles to carry around with you offline. The puzzles in the book match the first 100 puzzles of each difficulty level in the software version, so you can conveniently start puzzles in one format and finish them in the other. Large perfect-bound softback, 158 pages.
Enhanced with special support for:
PocketPC
Yes
Palm Pre
No
Palm Pixi
No
WebOS
No
PalmOS 3
Yes
Palm Hi-res
Yes
Palm Full screen
Yes
Palm Landscape
Yes
PalmOS 4
Yes
Sony Hi-res
Yes
Sony Full screen
Yes
Sony Landscape
Yes
PalmOS 5
Yes
HandEra Hi-res
Yes
HandEra Full screen
Yes
Dana Wide screen
Yes
5-Way Nav
Yes
Jog Dial
No
Samsung Full screen
Yes
SD/CF/MS cards
No
---
Recent Updates:
Version 1.50.01 - May 29, 2009 (Windows Mobile)
Added workaround for bug in HTC video drivers updating display on menu/window close
Version 1.50 - December 12, 2008
Added new optional larger keypads for number entry
Added new optional full screen mode
Improved layout intelligence to take advantage of larger displays
Improved redraw speed and responsiveness
Fixed unnecessary screen flashes during refreshing
Version 1.18 - July 11, 2006
Added support for using keyboard/graffiti to enter numbers into cells ('1'-'9')
Added support for using keyboard/graffiti to clear cells (backspace)
Added support for using keyboard/graffiti to toggle cells between ink/pencil (space)
Added 'swap' button to toggle board to/from previous state after solving
Added option to solve puzzle from start if not solvable from current state
Added highlighting of cells differing from solution when solved from start
Fixed minor drawing glitches drawing game board border when using 5-way nav
Improved 5-way navigation to select cell after tapping on with pen